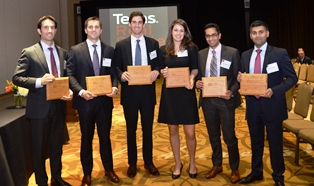 National Real Estate Challenge - University of Texas McCombs School of Business

Graduate student teams from top business schools compete for the highest honors and cash awards in an invitation-only real estate case competition.  
Description
Benefits:

- $25,000 in cash awards for top four finalist teams
- Nationally recognized corporate sponsors and judges
- Network with potential employers
- Challenge resume book
- Excellent resume builder
- National recognition

Format:

Each year, since 2002, teams of graduate students from the top-ranked business schools have been invited to Austin to participate in a case-based real estate competition.

The invitation-only case competition involves the analysis of a recent real estate transaction consummated by a leading global real estate firm. The contestants represent the most talented graduate real estate students that compete for the highest honors and cash awards. Judge panels consist of senior executives from leading real estate companies from across the U.S., creating outstanding opportunities for learning, networking and recruitment.

Winning Criteria

It is judged by accredited real estate professionals from nationally recognized companies.

Eligible Schools
Carnegie Mellon - Tepper School Of Business
Columbia Business School
Johnson - Cornell University
Jones Graduate School Of Business - Rice University
Michigan Ross School Of Business
MIT Sloan School Of Management
Northwestern University - Kellogg
NYU Stern School Of Business - New York University
UC Berkeley - Haas School Of Business
UCLA Anderson
University Of Chicago Booth School Of Business
University Of Texas At Austin - McCOMBS School Of Business
University Of Wisconsin Madison
USC Marshall School Of Business
Vanderbilt Owen Graduate School Of Management
Wharton School
Yale School Of Management