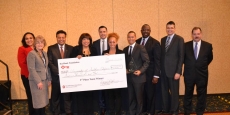 KeyBank Foundation Minority MBA Case Competition
February 24, 2019
KeyBank and Fisher College of Business at The Ohio State University will host its 15th Annual Minority MBA Student Case Competition on February 22-24, 2019 in Cleveland, Ohio.
Description
During the Annual Minority MBA Student Case Competition the KeyBank Foundation supervised the selection of a contemporary and never-before-used case topic addressing business issues with varied implications at either a national or international level. Teams of three presenters were invited from universities and colleges across the country to compete. Please note that, due to funding limitations, no alternate member of the team was invited to participate or sponsored by the program. Each team benefited from the opportunity to develop important professional skills such as analyzing and responding quickly to often-complex business issues. Also, teams had a chance to hone their communication and team-building talents while learning from the expertise of business executive judges and moderators.

Registration: Each team must be composed of three presenting members. Only one team, will be given consideration for selection, per university. 20-25 teams will be selected to participate. Presenting teams selected for participation in this minority MBA student case competition must represent ethnic diversity. At least two presenting team members must represent ethnic diversity. In the spirit of this minority MBA student case competition, it is desired that a majority of the team members presenting be of an ethnic minority background (identify as being African American, Asian American, Hispanic/Latino American, Native American/American Indian or Native Hawaiian or other Pacific Islander).

2017 Outcome
1st Place: University of Pittsburgh
2nd Place: University of Buffalo, SUNY
3rd Place: Hampton University
4th Place: The Ohio State University
5th Place: John Hopkins University
Organizer
Ohio State - Fisher College Of Business
KeyCorp
Prize
Awards: 1st through 5th place winners receive trophies and team awards ranging from $1000 to $10,000. Each team will receive individual participation certificates and a team photo plaque. Each team member will receive a participation allowance ranging from $200 to $400.